The Team
Our team has a diverse background and skillset to help you tackle your educational project.
Our team members specialize in instructional design, program management, video & audio production, animation, simulation and emerging technologies.
With a wide range of experience and talent, we work together with you to create impactful educational content for your learners.
Gary has over 20 years' experience working in the healthcare and academic environment in various leadership roles in training, organizational effectiveness and educational technology. As a certified LEAN Green Belt and organizational effectiveness expert he brings a client and learner-oriented perspective to improving educational services within the Faculty.
Justin has been designing and developing user-centred learning experiences since 2003 when he began working on custom eLearning courses for the corporate sector. After completing a Masters degree in Learning and Technology, Justin shifted to higher education in 2010 by joining UBC Medicine to support the online programs for the Faculty of Medicine. Justin is an HFI-Certified User Experience Analyst and continues enabling all users to share their voice to discover underlying problems that aid in the production of custom solutions for improved learning media and teaching resources.
Clare has been working in the field of educational technology for over 20 years, commencing at the University of Edinburgh in 1996 where she worked in the Office of Lifelong Learning, moving to The Royal Dick School of Veterinary Studies (Faculty of Medicine and Veterinary Medicine) in 1999. She joined UBC's Faculty of Medicine in 2010 and enjoys the variety of working with learners, staff and Members of Faculty.
Since 2010, Zac has written, produced, and directed film, audio, interactive and immersive projects in order to help people teach things to other people. He enjoys the unique creative collaboration between subject matter experts and storytellers, and thrives on the constant discovery of form following function.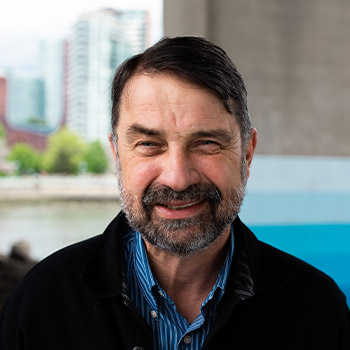 Tim has been working in education for over 20 years at first as a teacher, and later in education technology for museums and universities. He joined UBC Medicine's Educational Technology team in 2013. He is LEAN Green Belt certified and focuses on helping faculty, staff and students to identify the right technology for their needs as well as the best processes for implementing them.
Ferooz has over 17 years of experience as an IT professional, Simulation Technology Specialist, and AV Specialist in Healthcare and Academic Environment. He was one of the founders and chair of the BC Simulation Technology Working Group in the province. Before joining the University of British Columbia, Ferooz worked as a network administrator for the United Nations Development Program internationally.
Stephen specializes in film and podcast production, distribution, and social media management. Drawing from a 20+ year career in film & marketing, including writing & directing two feature films for primetime television, he provides a deep knowledge of the script to screen process and assists clients with a collaborative storytelling approach.
Teaching and learning has always been a huge passion for Paul. Whether it's animating complex physiological concepts or recording a podcast with a medical expert, he enjoys using technology to enhance the learning experience for students.
With a background in documentary film and advertising – Sam specializes in content creation, with a focus on filming, editing, and animating video.
A recent graduate of the UBC Okanagan Bachelor of Arts in Computer Science program, Duncan brings to the team a set of experiences at the intersection of arts and sciences. This varied background helps him provide excellent support when integrating new technologies, and often comes in handy when things aren't working! Before joining the team, Duncan worked for a start-up developing education apps for high schools.
Adrian has been supporting technology enhanced learning at the Faculty of Medicine since 2014 and has a background in both IT and educational theory. He holds a master's degree in Educational Technology and is passionate about exploring cutting edge technology, enabling innovation and improving learning outcomes.
Catherine is in the business of serving others and making people feel safe and supported in the workplace. She applies this sensitivity to everything she does - with her primary focus being operations administration and project coordination.
When it comes to visual design and 3D elements, Oliver doesn't shy away from experimenting with the latest trends and ideas. With a background in interactive arts and technology, Oliver brings a multidisciplinary approach to projects, encompassing visual art, new media and innovative practices.